Celtic Legends celebrates 15 years of performing!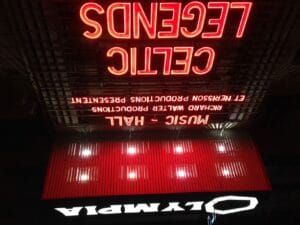 Celtic Legends celebrates 15 years of show !
For more than a decade, Irish folk groups have been making their presence felt on public transportation and on the streets. But I had never had the opportunity to take part in one of these shows. It is now done thanks to the Celtic Legends, the famous company which associates songs, music and Irish folk dances.
Present at the Olympia for 4 days of show, the troupe Celtic Legends Has put a nice atmosphere, on the sidelines of the 6 nations rugby tournament 😛
Tap dancing, but not only !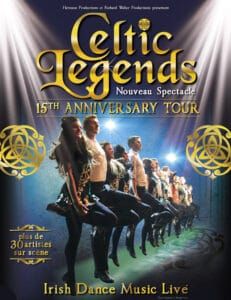 To return to the posters, the marketing side up to the show sells especially many dancers on stage accompanied by live music. The advertisements announce tap dancing in madness ! In reality, the dances are only part of the show.
Music above all
Because what dominates during the two (short) hours of show, it is definitely the music ! The six musicians are the backbone of Celtic Legends. I discovered two rather atypical instruments: the bodhrán and the Uilleann pipe. The first is a small drum with a very special sound.
The second one is the strange name of the Irish bagpipe, which is played sitting ! At least, it seems to my neophyte eyes.
Each of the musicians is highlighted during the show. They all give off a great energy ! The smile is radiant, you can clearly see that they all have fun on stage. The leader, the one with the bagpipes, sets the tone and doesn&#8217t hesitate to harangue the audience to get reactions in the Irish pub fashion !
The dance to give rhythm to the show
The reactions are always very lively during the sequences of dances, going sometimes until presenting 18 dancers simultaneously ! After an hour of show, the room begins to react by finally responding to the small cries of Irish joy (perhaps the beers of the intermission have helped ?). Because before, it was mostly the long applause that punctuated the show.
The dances are varied, from pure tap to the lightness of the ballerina. The tables change, the troupe alternates between solo dances and couple dances. It&#8217s very well paced to avoid being repetitive.
Sometimes, the stage of the Olympia even seems small to welcome all the dancers.
With humor, music, and tradition, the Celtic Legends troupe confirms my sympathy for the Irish people ! I would almost go so far as to support the Irish rugby team. Almost 😉
A superb show !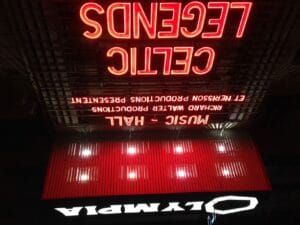 The dates of the Celtic Legends 2017 tour
Since February 11 and until March 31, 2017, the Celtic Legends are on tour throughout France before leaving for other countries :
Saturday February 11: Besançon – Micropolis
Sunday February 12: Annecy -L'Arcadium
Tuesday February 14: Grenoble – Le Summum
Wednesday February 15: Albertville – L'Olympique
Thursday February 16: Bourg en Bresse – L'Equinoxe
Saturday 18 February: Dijon – Le Zénith
Sunday February 19: Dreux – Parc Expo
Thursday 23 to Sunday 26 February: Paris – L'Olympia
Tuesday February 28: Caen: Le Zénith
Wednesday, March 1st: Rouen – Le Zénith
Thursday, March 2: Tours – Le Vinci
Friday, March 3: Saint Omer – Sceneo
Saturday 4 and Sunday 5 March: Lille – Théâtre Sébastopol
Tuesday March 7: Bourges – Palais d'Auron
Wednesday March 8: Orleans – Le Zénith
Thursday March 9: Rennes – Le Liberté
Friday 10 March : Le Havre – Centre des Congrès
Saturday March 11: Nantes – Cité des Congrès
Sunday March 12: Nantes – Cité des Congrès
Tuesday 14 March: Angers – Amphitéa
Wednesday March 15: Boulazac – Palio
Thursday March 16: Limoges – Le Zénith
Friday March 17: Clermont-Ferrand – Le Zénith
Saturday, March 18: Lyon – Salle 3000
Sunday March 19: Roanne – Le Scarabée
Tuesday, March 21: Nice – Palais Nikaïa
Wednesday March 22: Marseille – Le Dôme
Thursday, March 23: Montpellier – Le Zénith
Friday March 24: Saint-Etienne – Le Zénith
Saturday 25 March : Bordeaux – Patinoire Meriadeck
Sunday March 26: Biarritz – Gare du Midi
Tuesday March 28: Toulouse – Le Zénith
Thursday March 30: Strasbourg -PMC
Friday March 31: Toul – L'Arsenal